Merit
Pic-chan "convenience store ID photos" is a service that enables you to make ID photos quickly and easily from a photo taken with a smartphone or digital camera.
After uploading your photo, you can print ID photos on multi-use copiers ("Multi Copy Machines") at 7-Eleven, Lawson, Family Mart, POPLAR, MINISTOP, Seicomart, Daily Yamazaki stores throughout Japan.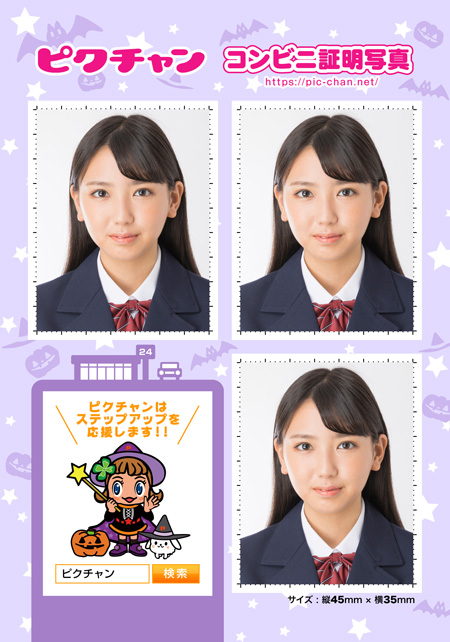 Benefit 1
Low price - 3 ID photos for just ¥200!
[*For photos larger than 3.6 cm (width) x 4.6 cm (height), the price is ¥200 for 2 photos.]
You pay at the Multi Copy Machine in the convenience store, so there's no need for a credit card.
Benefit 2
Photo printing at a nearby convenience store!
Photos can be printed on Multi Copy Machines in about 50,000 7-Eleven / Lawson / Family Mart / POPLAR / MINISTOP / Seicomart / Daily Yamazaki stores throughout Japan! (Not available in some stores.)
Benefit 3
Instant printing anytime - 24 hours a day, 365 days a year!
Once the photo is uploaded, it takes just 1 minute to print.
Benefit 4
A photo ID made from your favorite photo!
The photo can be taken with a smartphone or digital camera, so you can choose your favorite photo as your ID photo.
Benefit 5
Quick preparation - just 1 minute on the Internet! No need for a complicated app.
You can upload your photo quickly and easily from a computer or smartphone browser, so there's no need to download/install a special application.
Benefit 6
Your choice of photo size - 2,000 options available!
Enter your choice of dimensions to make an ID photo in the size you want. (*Dimensions can be selected in 1-mm units - minimum 1.5 cm, maximum 7 cm.)
Benefit 7
No complicated member registration necessary.
No need to register a user ID or password.
Please note, however, that e-mail address registration is required, as we will send your print confirmation number by e-mail.